SPECIAL ISSUE ALTERNATIVE DRIVES - OVERVIEW AND DETAILS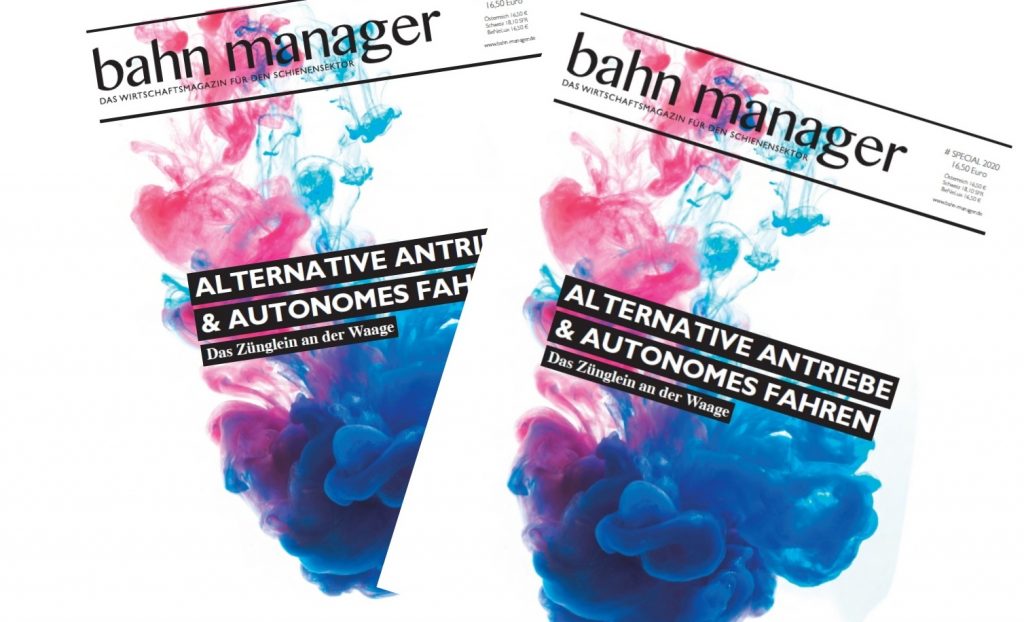 We have also taken special care in the preparation of the special issue on alternative drives and autonomous driving. The magazine was created in cooperation with the Association of the Railway Industry in Germany VDB.
VDB managing director Dipl.-Ing. Axel Schuppe emphasized in his foreword: "In the medium term depot automation is to be made commercially viable as a first stage of autonomous driving. Alternative drives also play a key role in sustainable mobility. We have been using electromobility for over 140 years. State-of-the-art battery, hydrogen and hybrid technologies are now offering step by step alternatives to exclusive diesel traction." 
The automation of vehicles should make journeys safer, compensate for staff shortages and enable more vehicles to pass through than now. The replacement of diesel vehicles is essential to prevent the climate catastrophe. But how do batteries work in trains and buses, how does hydrogen drive work? To this end, we are presenting rail vehicles that are already on the German railways. The leaders of the German rail industry have their say: Siemens Mobility Rolling Stock CEO Albrecht Neumann and Alstom Transport Germany CEO Dr. Jörg Nikutta in an interview with editor-in-chief Hermann Schmidtendorf and Stadler Rail Germany CEO Jure Mikolčić in a personal contribution.
This graphic from the Pro-Rail Alliance shows that significantly more freight traffic needs to be transported by rail. Because there the harmful emissions go down, but hardly in the case of road freight transport.
Hybrid technology also helps to get out of pure diesel traction. Therefore, freight locomotives from Siemens and Stadler are presented, which can run under electric contact wire as well as on non-electrified sections with a diesel engine. The universal tamping machine 09–32 / 4S DYNAMIC E3 from Plasser & Theurer is also on the rail in a hybrid way – there is an interesting operation report on this.
A separate chapter is dedicated to electric buses. The European leader is the Polish company Solaris, which belongs to the Spanish CAF group. A German workshop explains that it installs a battery drive in used diesel buses, thereby giving them a second, ecologically sound life. Reports on assistance systems for train travel as well as autonomous driving of trains and trams complete the compilation. hfs